Services
---
We offer a variety of expert services to our clients. Whether you're in need of plumbing, heating, gas fitting, or more, Blueshore Mechanical has the team to handle any job. For all local areas including Vancouver, Surrey, Richmond, Delta, New Westminster, Langley, and White Rock, Blueshore Mechanical offers same-day and 24/7 emergency services to prioritize your comfort and well-being. Call us today to receive a free estimate on any service below, and have a certified technician work on your residential, commercial, or retail property today.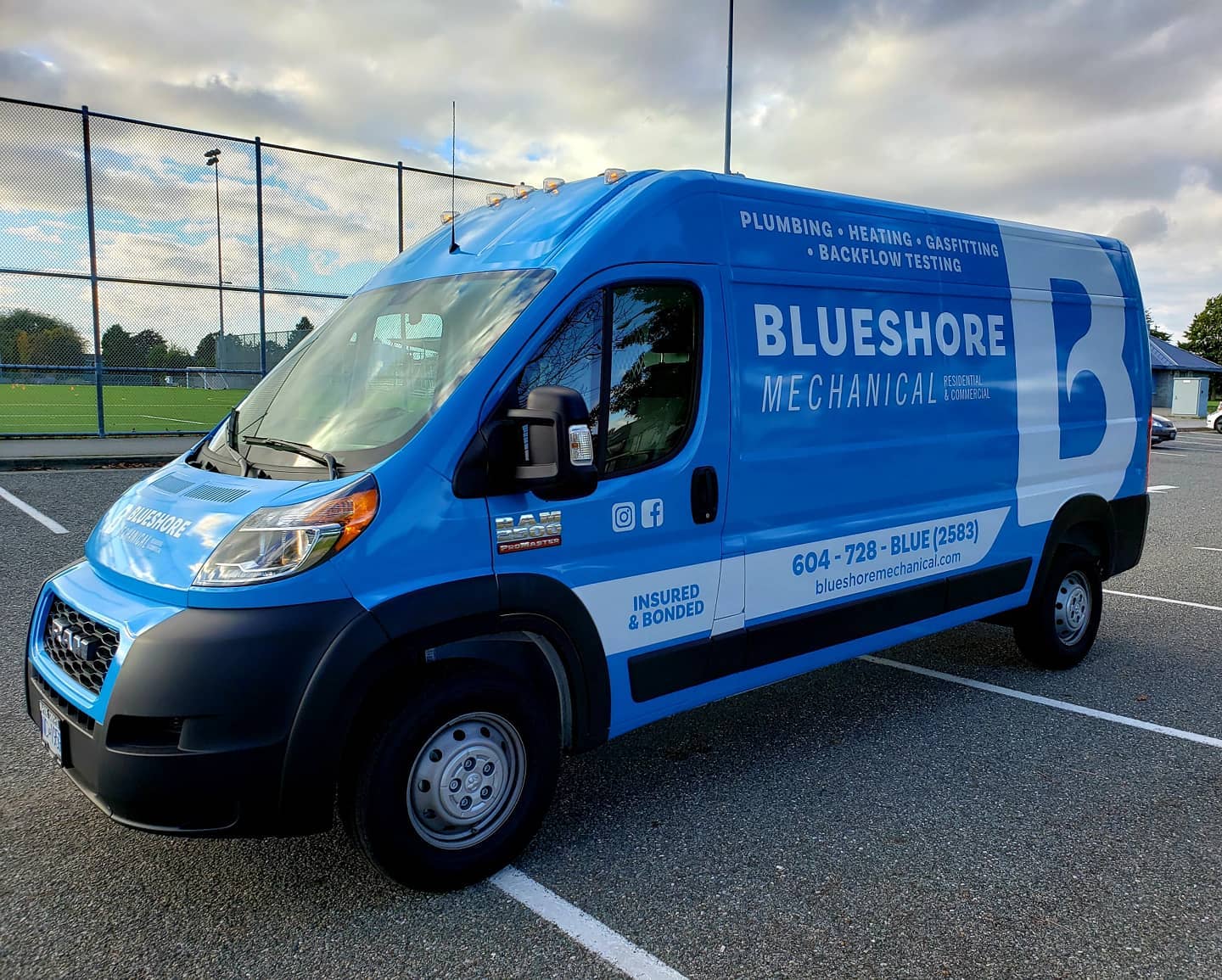 ---
Plumbing
---
At Blueshore Mechanical, we offer fast, friendly, and reliable plumbing services. Our dedicated, highly trained team of professionals consistently accommodate our customer's busy schedules to solve your plumbing problems quickly and efficiently. Whether it be a clog in the toilet or drains, leak detection & repair, or plumbing installations & replacement, our team has you covered. For all your plumbing needs in your residential, commercial, and retail properties, choose Blueshore Mechanical.
---
Heating
It's important to prioritize the heating systems in your property. For the highest level of service and execution, Blueshore Mechanical offers a range of heating services. We fix, maintain, repair, and replace residential, commercial, and retail heating systems. We're well versed in the highly technical systems available including central furnaces, heat pumps, HVAC, air conditioning, infrared heaters, and more. To obtain optimal comfort at your property, call Blueshore Mechanical today to receive a free quote and assessment for any heat related inquiry.
Gas Fitting
---
When it comes to moving or repairing natural gas lines, leave it up to the professionals. This highly sensitive job requires experienced hands and knowledge to complete properly and safely. Blueshore Mechanical offers a range of gas fitting services such as repairs, safety inspections, design, installation & repairment of natural gas lines & appliances, and much more. For all your gas fitting needs, the experts at Blueshore Mechanical are here to help.
Drain Cleaning
---
Bathrooms are ridden with plumbing, making them a prime area for issues to arise. Aside from the common clog, bathrooms have mixing valves, shutoff valves, waterlines, drains, and more. With the amount of equipment found in bathrooms, they often require some extra plumbing attention. At Blueshore Mechanical, our local plumbers will arrive fully equipped with the supplies, tools, and expertise needed to repair or replace all bathroom fixtures and pipes.
Backflow Testing
---
We often forget about our drains; however, these highly used systems tend to need some extra love and attention. If you're experiencing slow drains, blockages, or just want a quick check-up, Blueshore Mechanical are the local drain experts. Our plumbers can be there in a flash to remedy any drain related issues.
Bathroom Services
---
In BC, many residential, commercial, and retail properties require the installation of backflow assembly to protect the municipal water supply from contamination. It's required that this backflow assembly is tested yearly in order to submit annual reports to the city engineering departments. Blueshore Mechanical's certified technicians can perform thorough and fast testing, to ensure your water supply is free of contamination. Should there be an issue with the backflow assembly, Blueshore Mechanical can proceed with the repair or replacement of all backflow assemblies. For your convenience, we offer same-day backflow testing for all residential, commercial, and retail properties.
Same-Day Service
---
At Blueshore Mechanical, we prioritize our client's busy schedules, which is why we offer same- day service. To have your problems fixed promptly and efficiently, we can arrive quickly and with all the proper tools to get the job done. We currently offer same-day service to suit every situation, including plumbing, heating, gas fitting, drain cleaning, and backflow testing. Don't let a small issue escalate into a big problem, call Blueshore Mechanical today to receive quick and thorough service.
24-Hour Emergency Services
---
Plumbing emergencies are never fun, especially when they occur in the middle of the night. Whether it's a clogged toilet, a slow-moving drain, or a burst water pipe, plumbing emergencies illicit an immediate response. To prioritize your comfort and safety, Blueshore Mechanical offers 24-hour emergency services for all your plumbing and heating needs.
When living in Vancouver, you come across all sorts of residential and commercial buildings; some are brand new, and others have been up since the early 1900's. While no one is exempt from plumbing emergencies, properties with aging pipes and fixtures require extra attention. Home and business owners across Vancouver rely on Blueshore Mechanical's prompt and thorough emergency services. No matter the hour, our highly skilled and experienced technicians can be at your door with the proper tools and expertise to help. Call Blueshore Mechanical immediately to:
Unclog pipe and drain blockages
Repair leaks
Repair or replace toilets, hot water tanks, bathtubs, showers, and sinks
Repair burst water pipes
Perform backflow testing
Install or repair furnaces or boilers
Thaw frozen pipes
This error message is only visible to WordPress admins
Error: No connected account.
Please go to the Instagram Feed settings page to connect an account.
Free Estimates
---
At Blueshore Mechanical, we prioritize the well-being and comfort of our clients. As such, we offer free estimates for all your plumbing and heating needs, to ensure we're on the same page from day one. No need to worry about hidden fees, we're upfront in our pricing and offer exceptional work at a fair cost.
Get Free Estimate Now